UK Delivery from £4.00
|
Next Day Delivery from £9.50
|
International Delivery available
|
Comb & Cutter Sharpening
£1.50 inc. VAT
£1.25 exc. VAT
We have been sharpening in-house since 1994, and we have a variety of machines available for this purpose. We can sharpen all types of clipper blades for horses, cattle, sheep, dogs and vet.
Cutters and Combs are charged at £1.50 each. For more information, please check out our Sharpening Classification information sheet.
For Information about how our sharpening process works, please visit our sharpening page or download our comprehensive guide - the links for both can be found below:
Comprehensive sharpening Guide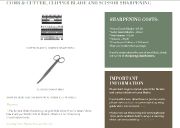 Important General Information
We can no longer accept payments made by cheque.
Please allow a little longer during our peaks times from September through to January. We regularly update our sharpening and social media pages with turnaround times.