UK Delivery from £4.00
|
Next Day Delivery from £9.50
|
International Delivery available
|
Scissor sharpening
£6.00 inc. VAT
£5.00 exc. VAT
We have been sharpening in-house since 1994, and we have a variety of machines available for this purpose. We can sharpen all types of clipper blades for horses, cattle, sheep, dogs and vets.
We can sharpen all types on scissors including double- and single leg thinning scissors. We cannot however, sharpened left-handed scissors. This information can be found in our Sharpening Classification information sheet.
For information about how our sharpening process works, please visit our sharpening page or download our comprehensive guide - the links for both can be found below:
Comprehensive sharpening Guide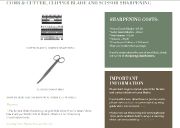 Important General Information
We can no longer accept payments made by cheque.
Please allow a little longer during our peaks times from September through to January. We regularly update our sharpening and social media pages with turnaround times.
We cannot sharpen left-handed scissors.